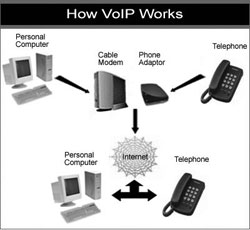 Advantages of VoIP:
Number portability: if you move office the number will move with you.
Geographical presence: your office may be in Aberdeen but you can still have a London number
Reduced tariffs: by sharing the same IP resources the same connection can be used by multiple users therefore reducing rental and call costs.
Flexibility: you can easily add or reduce the number of external lines
A VoIP phone can be a physical device like a traditional phone or a software application like Skype.
Disadvantages of VoIP:
Quality: you need to be aware that the quality of your voice calls is as good as your broadband line. If the broadband is poor you will be just another frustrated VoIP user in the market!
Failover: If the broadband goes down you won't be able to make any calls. It is useful but not essential to have a second connection from an alternative ISP.
Implementing VOIP
Hosted– all you need is an IP phone and an internet connection. The PBX is sited and managed by the VOIP provider.
IP PBX – The exchange equipment is located on your premises. Smaller systems look like a traditional router.
Both implementations can be used with physical or soft phones (use your laptop along with a headphone and microphone to talk).
Features of VOIP
You can make and receive phone calls wherever there is a broadband connection by simply signing in to your VOIP account. This makes VOIP as convenient as e-mail. When you're traveling, you simply pack a headset or Internet phone; and you can talk to family or colleagues over your internet connection.
Remote Working or Teleworking - Allows you and your staff to work out of the office but appear as if they are in the office.